Register Today!
AHLI for Life Colorectal & Lung Cancer Screening Campaign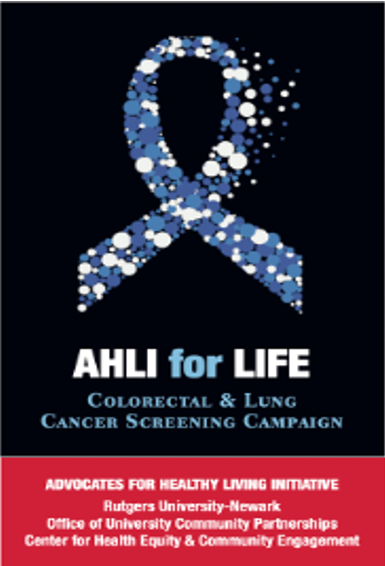 AHLI for Life seeks to increase screening rates among Greater Newark residents ages 55 and over.  Early Detection Saves Lives! Membership includes:
An AHLI for Life Welcome Kit
Weekly emails with tips, information, & motivational material
Navigational support for screening opportunities
Access to virtual & in-person healthy living programs and events
If you have any questions, feel free to email us. Response times are between 48-72 hours Monday-Friday:
CONNECT Magazine
The first edition of the magazine CONNECT: Empowering our Community Through Research, Scholarship and Engagement features the RADx-UP project NJ HEROES TOO.
The magazine details a new inclusive approach to "telling the story" of community engaged research that helps to better understand COVID-19 testing among underserved and vulnerable residents.
https://go.rutgers.edu/NJACTS4Us-CONNECT
Our Mission
The mission of the Office of University-Community Partnerships is to serve as the nexus that connects Rutgers University–Newark students, faculty and staff to expand, create and promote reciprocal and mutually beneficial partnerships that support and align with the university's strategic engagement priorities.
Guiding Principles
Invest in collaborative academic and research programs
Invest in our students
Invest in anchor institution collaboration
Leverage our diversity and building civic dialogue
Community Engagement at RU-N
To learn more about the university's ongoing efforts to serve as an anchor institution visit  https://www.newark.rutgers.edu/community-engagement.
For Students
The Office of University-Community Partnerships has multiple opportunities for community engagement to offer RU-N students who are committed to transforming communities by investing their time, skill and passion to the Newark and Greater Newark area. Students may participate through:
"I believe we can change the world if we start listening to one another again. Simple, honest, human conversation. Not mediation, negotiation or problem solving debates or public meetings.  Simple, truthful conversations where we have a chance to speak, we each feel heard, and we each listen well." –
Margaret Wheatley