RU Ready for Work
RU Ready for Work (RUR) is a year-round, replicable career/work-readiness demonstration model designed for socio-economically challenged 10th -12th grade students. Founded on evidence based practices and periodic program assessment, RUR provides a proven effective framework that encourages persistence, academic success and graduation, and enhances educational, personal and life skills development.  It also provides students with career preparation and work readiness skills and tools, including summer career track immersion, mentors and internship experiences. All of these elements are known to influence positive youth development. Since 2011, 100% of RUR participants graduated high school and since 2013, 100% of participants earned post-secondary placements, with the preponderance enrolling in 2- and 4-year colleges/universities, significantly exceeding both state and local averages. RUR operates in partnership with the Newark City of Learning Collaborative (NCLC) to increase the percentage of Newark residents with college degrees or professional credentials from 13% to 25% by 2025. By design, RUR's three-tier model improves outcomes among at-risk or marginalized students.
RU Ready for Work Goes Virtual 2020-2021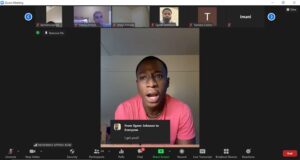 2020-2021 Program Year Highlights
RU Ready for Work (RUR) director Roxanne Hall and instructor Halima Moore met with students from September – June virtually via Zoom every Tuesday and Thursday from 3:30-5:30 PM. Topics for 2020-21 included:
The College application process
FAFSA
Scholarships
Understanding financial aid award letters
How to navigate being a college student
Choosing an academic major and/or minor
How to manage conflicts
Self-care practices
Financial Literacy & Budgeting
Interviewing practices
Giving Back
RUR alumni, some of whom have graduated college, gave presentations on their college experiences, things they have learned along the way, tips, and advice on navigating the college journey.
Presentations were made by RU Ready Alumni: DeJanee Jones (2013), Salonia Burt (2014), Erica Lassiter (2018), Nehemiah Appiah-Kubi (2018), Karyn Jean-Jacques (2020), Christabel Otoo (2020), and Ayoko Kessouagni (2020).
RUR students and families received biweekly groceries at their homes through OUCP's collaboration with the COVID-19 Emergency Response Food Distribution Effort.  The initiative in partnership with RUPD, UVSO, and CARESPARC Consulting Sustainable Health & Wellness Village. Students began receiving grocery bags on Thursday, April 30, 2020, and continued through the end of the program on Thursday, June 17, 2021.
Statistical Overview
Students: 25
High Schools & Charter Schools (11)
Training Hours: 112
Newark High Schools 2020-2021
American History High School
Barringer High School
Eagle Academy for Young Men of Newark
Marion P. Thomas Charter School
North Star Academy Charter School
Essex County Schools of Technology-Donald M. Payne Sr. Tech Campus
Essex County Schools of Technology-Newark Tech Campus
People's Prep Academy Charter School
Technology High School
University High School
West Side High School 
Congratulations RU Ready For Work
Class of 2021
| | |
| --- | --- |
| Name | High School |
| Oluwapamilerin Amuda | People's Prep |
| Afua Appiah | Essex County Schools of Technology-Newark Tech Campus |
| Yaa Serwaa Baffour Awuah | Technology |
| Fatuma Balloh | American History |
| George Baskerville | People's Prep |
| Kenisha Benjamin | West Side |
| Tamara Colon | Essex County Schools of Technology-Payne Tech Campus |
| Genesis Davis | American History |
| Mamemary Diane | Marion P. Thomas Charter |
| Darius Erhunmwunsee | People's Prep |
| Grady Guaman | American History |
| Qyeer Johnson | Eagle Academy |
| Watta Kamara | Marion P. Thomas Charter |
| Kathurna Louis-Jean | American History |
| Imani Mustapha-Ippolito | West Side |
| Rhodar Olajide | People's Prep |
| Esosa Osagie | Essex County Schools of Technology-Newark Tech Campus |
| Gia Marie Pottinger | American History |
| Emilio Rios | People's Prep |
| Jeremy Romano | Barringer |
| Derius St. Pruex | North Star Academy |
| Khaliyah Sellers | University |
| Izavia Shell-Canady | People's Prep |
| Phyllis Tuffour | University |
| Elijah Vauters-Rouse | Eagle Academy |
Post-Graduation Plans
College bound         22
Military                      1
Workforce                 1
DVR program           1
RU Ready for Work Performance Outcomes 2009-2021
RU Ready for Work (Senior Cohort)
Class
 
Program Outcomes
Placement Outcomes
Initial Cohort
Completed Program

Graduated

(from intake total)

Percent Completed
HS Diploma
In Workforce

Post-Secondary Education/

Training

Unknown/

undecided

Number
Percent
2009
20
16
16
80
100
31
56
12
2010
20
20
19
100
95
10
75
15
2011
22
17
20
77
100
12
76
12
2012
19
14
191
74
100
0
86
14
2013
19
18
19
95
100
102
100
0
20143
20
20
20
100
100
0
100
0
20154
19
19
19
100
100
0
100
0
2016
19
185
19
99
100
0
100
0
2017
25
25
25
100
100
0
100
0
2018
13
13
13
100
100
0
100
0
20196
18
187
17
100
94
0
100
0
2020
13
13
13
100
100
8
92
0
2021
25
25
25
100
100
8
92
0
Totals
252
236
244
94
99
6
92
4

1 Student Completed RUR but did not receive a diploma due to a shortage of PE Credits; student enrolled in Project graduation and completed in May 2013.

2 Two students worked in Fall, 2013 but planned to attend Community College in Spring 2014.

3 The Class of 14 included two High School Valedictorians (Bard & West Side), the Salutatorian (West Side) as well as several top ten class graduates.

4 Graduating class includes a Salutatorian (Barringer) and one student enlisted in the U.S. Navy.

5 One student relocated out of state but remained connected to RUR staff.

6  The Class of 2019 included one Valedictorian (Barringer), one Salutatorian (West Side), as well as several top ten class graduates.

7 One student completed RUR but did not receive diploma due to shortage of credits/courses at initial high school; student later enrolled in Lawrenceville Prep school where he received his diploma in May 2020.

 
 
 
 
 
 
 
 
 
 
 
 
 
 
 
 
 
 
Summer Program Highlights
Summer Enrichment Program
The RU Ready summer enrichment component features a career immersion experience that exposes students to options in fields such as public and healthcare services, criminal justice, or brain health/psychology research.  Students explore pathways to exciting, rewarding and attainable careers via guest speakers, field excursions and interaction with local career professionals. Students' intern at local non-profit sites allowing them to hone workplace and professional skills, obtain guidance from a mentor/ supervisor, increase social capital and, in many instances, support work that benefits their community. Broadening social/cultural awareness is another hallmark of the summer experience. From participating in global teleconferences with students in Africa to trips to live performances, Broadway plays and historical museums, student discover how they connect to the world beyond their city's boarders.
2021 Summer Program Highlights
CKO Newark-Kickboxing class
Glass Roots
Virtual Painting
Yoga, Meditation, and Self-Care
Luncheon Speaker Series
The RU Ready For Work Summer Program Luncheon Speaker Series provides an enriching opportunity for program participants to engage directly with university- and community-based professionals about various topics related to college and career preparation. This component of the summer program serves to reinforce concepts that participants learn and discuss in instructional workshops by exposing them to real world experts who share knowledge and experience in key competency areas that can lead to college and career success.
Through the Luncheon Speaker Series, participants have met and interacted with university officials, municipal leaders, entrepreneurs, healthcare practitioners, and nonprofit executives, as well as Rutgers-Newark students who impart valuable insights into the rigors and rewards of the college experience. Topics of discussion have included leadership, economic and community development, mentoring, goal setting, time management, and college admissions and financial aid processes. Ultimately, the Luncheon Speaker Series introduces RU Ready for Work participants to the idea that "doing lunch" with knowledgeable mentors and peers can lead to many valuable career and educational networking opportunities.
Summer 2020 Speakers
Dr. Michael Dillard, School of Public Affairs and Administration (SPAA) 
Mr. Kevin Silvestrini-Cordero, CareSparc Consulting Inc. 
Dr. Terri Lassiter, Rutgers School of Public Health 
Mr. Kendall St. Ange, TRC Companies 
Mrs. Lori Scott Pickens, Center for Law and Justice; Ms. Kelly Mulligan-Brown, Newark Community Solutions; Divad Sanders, School of Criminal Justice
Community Service
The RU Ready for Work program encourages students to be proactive citizens. During the summer, it partners with various local non-profit organizations to provide an opportunity for students to "give back" to their community. Some of the community service opportunities have been provided by:
Essex County Division of Senior Services
Goodwill Rescue Mission
St. Ann's Soup Kitchen
Greater Newark Conservancy
Freedom Ministries, Inc.
Community Food Bank of New Jersey
MedShare
RU Fit Day
The RU Ready for Work Program strives to help its participants make healthy choices in all areas of their lives. "RU Fit Day" is an annual fitness program conducted at Rutgers-Newark every summer in an effort to showcase the benefits of healthy living. Through Newark Community Health Centers, Rutgers-Newark's College of Nursing, Student Health Organization and a group of dedicated Rutgers individuals, the students are treated to a day of exercise, health screenings, and informative as well as interactive presentations.
Academic Excursions
Each summer the RU Ready for Work Program adopts a socially relevant theme that is then integrated into the entire summer enrichment curriculum, including field trips that are carefully chosen. The theme for the summer of 2013 was, Entrepreneurship: Building a New Economy in Our Community.  Students went to Motown (The Musical) which demonstrated the significance of branding as an integral aspect of running a successful business or organization, as well as the many challenges to becoming a successful entrepreneur.
For 2017 the theme was Newark Through the Lens of History and Culture. In addition to excursions to local sites and art exhibits, students visited the National Museum of African American History and Culture where they gained a broader understanding of the historical context and cultural evolution of African Americans who had migrated to Newark. While there, they viewed a display on Baxter Terrace, which had been a landmark housing structure in Newark built before WWII.
The Public/Healthcare Services Track field trip to the Newark Liberty Airport- Quarantine Station field trip, introduced students to new career opportunities. Students had an opportunity to speak with various staff members regarding healthcare, level of education, and experience needed in order to pursue careers in this field. They discovered non-traditional careers in the healthcare industry that they never may have considered.
RU Ready For Work: About Us
RU Ready For Work 2016 GRADUATES
RU Ready For Work Programs
RU Ready In the NEWS: NJ Spot Light
RU Ready: Robeson Meeting
RU Ready In the NEWS: Diverse Issues
Learn more about RU Ready for Work